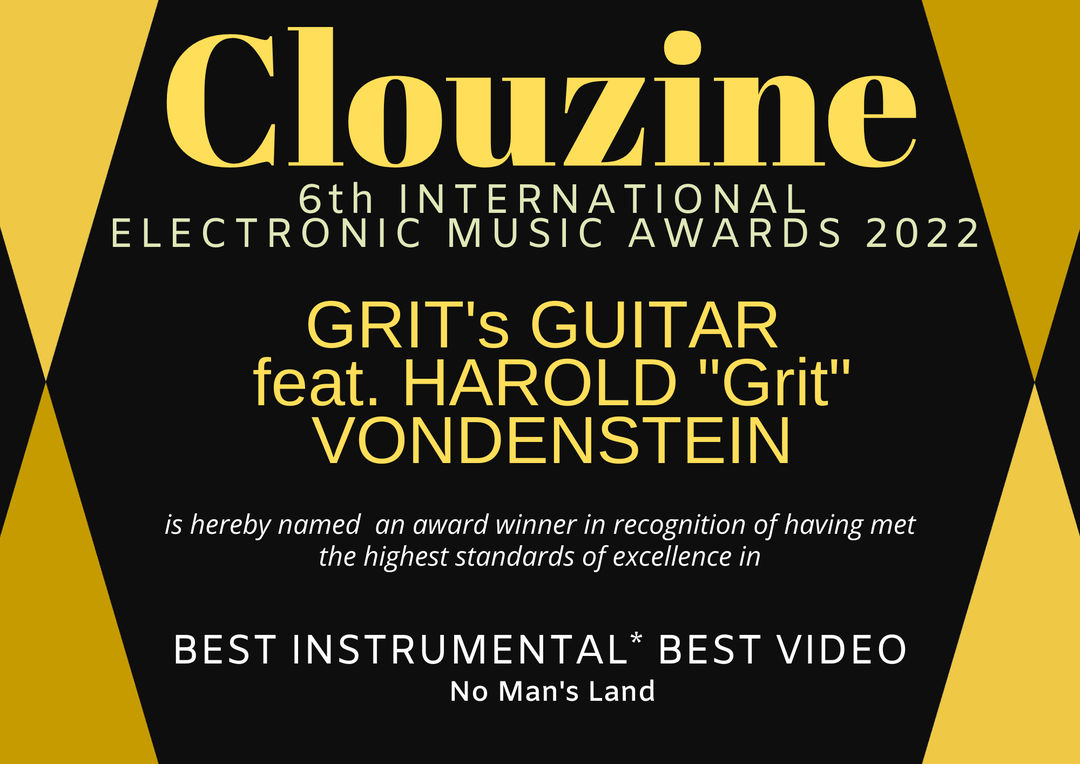 Grit's Guitar celebrates the release of their debut concept album, "Runs Like a River," on March 10, 2022.
Song Release date June 15, 2021
Song Release date June 8, 2021
Song Release date June 15, 2021
Song Release date June 30, 2021
Song Release date February 13, 2022
Song Release date August 15, 2021
Grit's Guitar instrumentals on Bongo Boy Records Compilation Albums (6 electric guitar instrumentals) June 2021-June 2022
Click to Purchase digital/physical
Bongo Boy Records CD's featuring Grit's Guitar music
                          Album review by "The Ark of Music"
Bongo Boy Records has put together yet another stellar compilation album comprised of indie artists from around the world. This latest release – Backroom Blues, Vol. Ten – is a dynamic, soulful, explosive album containing nothing but blues music from a wildly talented group of performers.
Closing things out is Grit's Guitar with "No Man's Land", another instrumental track that personifies this genre to the core – slow and cutting blues riffs over a sober, subdued beat; it's everything we love about a classic blues track.
    Album review by Dick Metcalf,  Contemporary Fusion Reviews
Down home blues blast Bongo Boy Records – BACKROOM BLUES, VOL. TEN BY VARIOUS ARTISTS: For listeners not acquainted with what the blues is all about, I'll tell you right now… it's NOT something you can "requisition"… you either know what they're about, or you don't…
The closing track of this 14-song blues bonanza is "No Man's Land", from Grit's Guitar, and I knew as soon as I listened to the first two bars of this blues guitar gem that it was gonna' be my pick for personal favorite… just over nine minutes of exquisitely soulful pickin'!
                          Album review by "The Ark of Music"
First distributed in 2014, Bongo Boy Records has just released the 20th edition of their self-titled compilation album series. Volume XX is full of quality performances from a host of supremely talented artists that we've come to know and love from the Bongo Boy team's excellent curation skills. In this latest edition, we're treated to a variety of names familiar to us from past releases, alongside a host of new and instantly memorable artists on this pop/rock/electronic-focused musical collection.
 Closing out this compilation is another familiar favorite artist – Grit's Guitar. A stand-out on this project, My Heart's Desire is a bluesy, soulful, guitar-led number that fully showcases the musical capabilities of the lead guitarist, but additionally the backing band as well, filling the space around the emotive solos with both restraint and feel.
#RadioPlay for Volume XX by Various Artists on Rock on Neon
Thank you Jay Goldberg. Jay has added #'s 2, 4, 5, 11, 12 and 13 to the station's server. He already had Hideaway from Studeo. The Grit's Guitar song surprised him. He rarely takes instrumentals and this was a long one. It will only be available to be played on a few shows but he loves the song. Thank you Jay!!
2. Hollywood – OLYA K 3:22 (Pop/Dance)
4. It's Only Me –
Robert Petitti
4:15 (Rock)
5. Bite Your Tongue –
AJ Scaff
3:20 (Rock)
11. Rain Down On Me –
Studeo
4:02 (Pop)
12. When The Answers Leave –
Kate Magdalena
2:40 (Pop)
13. My Heart's Desire –
Grit's Guitar
9:49 (Rock Instrumental)
Email : Paula@BibleBeltBlues.org